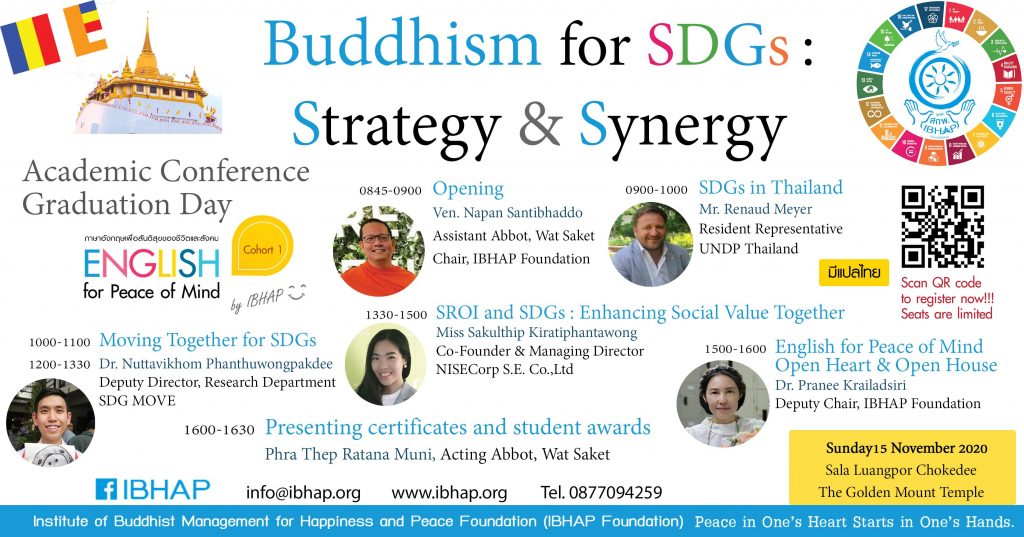 15 November 2020, The Golden Temple
IBHAP Foundation held an academic conference as part of the graduation day of English for Peace of Mind by IBHAP Cohort 1. Ven. Napan Santibhaddo, Chair of IBHAP Foundation and Assistant Abbot of Wat Saket, sees the interrelationships between the Buddha's teachings, peace building and SDGs, and that aligning strategies will create synergy resulting in goal(s) achievement. The topic of the conference reflected his vision while IBHAP Foundation provided a platform for bringing together experts to share their knowledge and experiences.
Ven. Napan opened the event by leading a brief moment of mindfulness. As we had to wait for the registered audience to turn up, the meeting started late. Ven. Napan reminded all participants not to lose their peace of mind and encourage everyone to adopt the habit of being punctual. He also highlighted the interrelationship between inner peace and outer peace, reiterating that without inner peace, one cannot change social structure in a positive way.
Who would be better to give an overview on SDGs in Thailand than Mr. Renaud Meyer, Resident Representative of UNDP Thailand! He shared his first-hand experience from his visit to the North of Thailand finding that monks are community leaders who can readily become SDGs champions. Other religious leaders can also turn into the same role. See his other take-away messages in the photo.
Our second speaker was Dr. Nuttavikhom Phanthuwongpakdee or Dr.Kay who is Deputy Director of Research at SDG Move. He delivered his talk titled "Moving together for SDGs" in such an edutaining way. He raised very interesting points on some of the SDGs indicators. We also learned from him that Thailand had already achieved one of the 17 goals but none of us could correctly guess which one. Make a guess in the comment below to see if you can get it right!
The final speaker of the day was Khun Sakulthip Kiratiphantawong, Co-Founder and Managing Director of NISECorp, who is an expert on Social Return on Investment (SROI). She is so popular and full of energy that she gave a talk at three events on the day! The information she shared with us included social enterprise model, how to measure social value of business giving examples from both Thailand and other countries.
Each speaker was given a framed certificate of appreciation plus a Golden Mount model kindly given by The Most Ven. Phra Thep Ratana Muni, Acting Abbot. Ven. Napan said, "We cannot give you the real Golden Mount but we can give you a Golden Heart for SGDs." Apart from that, to advocate SDGs#13-climate change speakers also received IBHAP T-shirts ordered from Moreloop whose manufacturing process reduces CO2 production.
After the conference, we had an "Open Heart Open House" session by Dr. Pranee Krailadsiri where students and teachers gave their reflection on English for Peace Mind and after their bonding in the Zoom classrooms some didn't really want the course to end. Of course, IBHAP Foundation will open a new course soon. The curriculum will still keep the information of SDGs with the addition of inspiring students to put it into action. Maybe on the Graduation Day of English for Peace of Mind Cohort 2, you can come to see an exhibit of our students' work for SDGs. Meanwhile, anyone interested to improve their English can join any of our English for Peace of Mind weekly classes and events free of charge.
Total Page Visits: 994 - Today Page Visits: 2